One of the great things about shedding is that we get to use some of our time to take on projects that make a difference. That will often involve taking on jobs within the community as a whole or assisting groups that need a bit of manpower (and womanpower) to bring about change. We will consider anything within the limits of available skills, resources and time.
If you have a project you would like us to consider, please send details in an email to axminstercs@outlook.com. Please include your objectives, the number of people who will benefit and the funds that may be available to cover the cost of materials. Guide us also on any deadlines, bearing in mind that we may not always be able to respond quickly. If possible, we would appreciate a modest donation to help us run the Shed and maintain or replace our tools.
Bird boxes for community locations
Axminster Town Council commissioned us to make bird boxes for the new Jubilee Field. At about the same time, Axminster Community Primary asked us to work with them on a trial to enable small groups of pupils to learn vocational skills. So we put the two together! We created the bird box components at the Shed, and then Andy and Colin shipped them up to the school for lunchtime construction sessions. Axminster's Town Clerk, Paul Hayward, came along to the Shed for Colin to hand over 21 boxes which each carry the name of a pupil.
Banners to boost the street scene
We are strong believers in working with other local groups and have developed particularly close relationships with Axminster Chamber of Commerce, Totally Locally Axminster, the Repair Cafe, Light Up Axminster and the social support side of the Community Waffle House. One of our most effective partnership projects has been Totally Locally Axminster's street banners that are now brightening the town centre. We created work stations within the Shed to enable volunteers to paint their wonderful creations and gave hands-on support to the team fixing the final banners in place.
Helping kids love nature
Children in Miss Reeve's reception class at Axminster Community Primary Academy have a much refreshed outdoor classroom thanks to a team of our Shedders. Andy (who doubles as Chair of Governors) worked with Colin, Phil and Simon to rebuild a valued bench facility that had rotted and collapsed. With wood supplied by Linden Homes and paint from the PTFA, it has been an all-round team effort. The painting was down to Andy and wife Kath.
Putting on a picnic
The Axe Vale Show is one of the big events in the Axminster calendar - and how we all missed it through the pandemic! We were delighted to be asked to produce some picket fencing as part of the Teddy Bears' Picnic display in the Craft Tent at the 2022 show.
Candlesticks restored for the Minster
Shedders Hazel Hunt and John Hardy (right) return two restored candlesticks to Mervyn Symes, a member of the Parochial Church Council at the Minster Church. The team had to strip away countless years of encrusted wax before they could treat the beautiful oak that lay beneath.
Keeping track of fund raising
Marshwood Primary School's Parents & Friends Association asked us to make them a thermometer-style device to track the progress of their fund raising programme for a new climbing frame. Simon (pictured) and Hazel took on the challenge, coming up with a universal board that can be adapted for other projects in the future.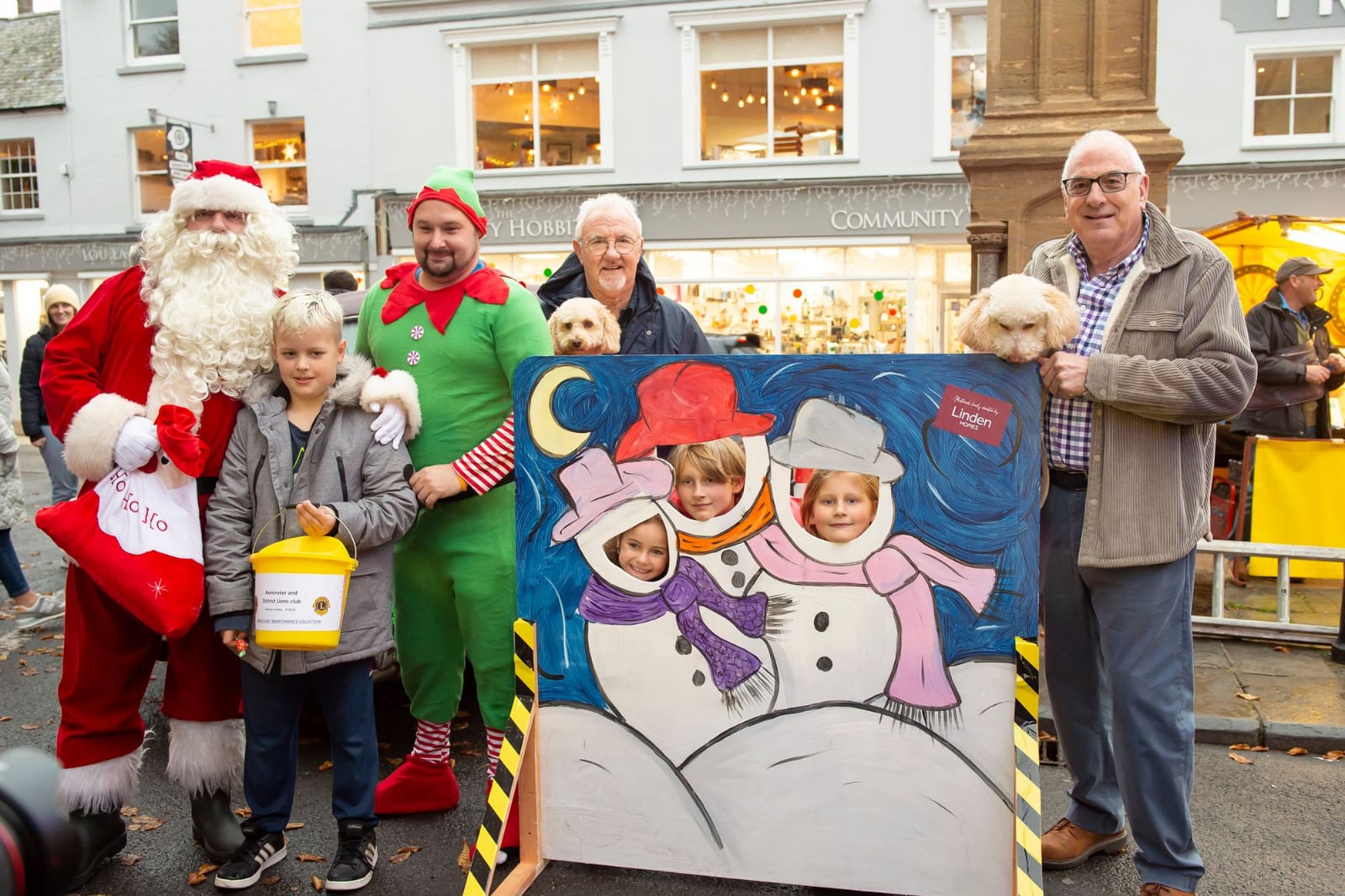 Lighting up Axminster
In November 2021, we responded to an appeal from Light Up Axminster to quickly make some attractive all-weather display panels for Axminster's big Xmas light switch-on. Using materials donated by Linden Homes we made a series of festive self-standing boards with cut-out face panels. The boards are now in use elsewhere in the town.